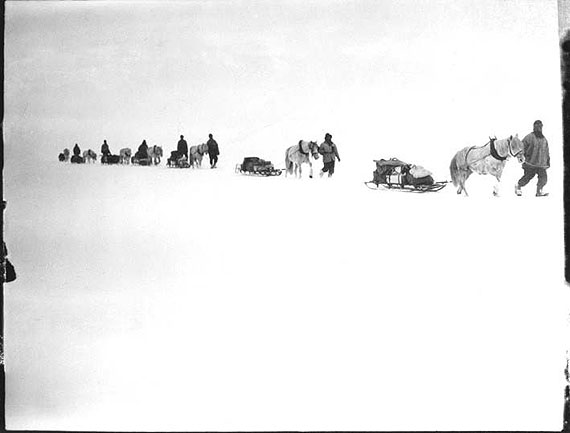 Captain Scott, Ponies on the march, Great Ice Barrier, 2 Dec 1911
© Richard Kossow, courtesy of ATLAS Gallery
Die Londoner Atlas Galerie zeigt noch bis zum 28. November 2011 eine einzigartige Photoausstellung: Die verlorenen Bilder von Captain Scott. Der Clou: Die Photos sind noch nie zuvor öffentlich gezeigt worden – und zu kaufen!
Captain Robert Falcon Scott hat exakt vor 100 Jahren, im Jahre 1911 seine Südpol-Expedition photographisch dokumentiert. Die Photos erscheinen nun zugleich in einem Buch zur Ausstellung.
In Großbritannien genießt Scott als Nationalheld einen legendären Ruf. Mut, Tapferkeit und eine große Willensstärke werden ihm zugeschrieben. Im nächsten Jahr jährt sich sein Todestag zum 100. Mal. In der Westminster-Abbey wird für den Polarforscher und seine Mitstreiter ein Gedenkgottesdienst stattfinden.
Captain Scott, Foundering in soft snow: (left to right) Cherry Garrard, Bowers, Keohane, Crean, Wilson, Beardmore Glacier, 13 Dec 1911
© Richard Kossow, courtesy of ATLAS Gallery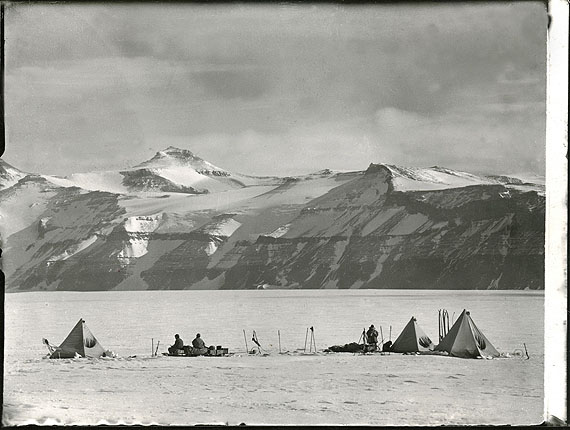 Captain Scott, Camp under the Wild Mountains, Beardmore Glacier, 20 Dec 1911
© Richard Kossow, courtesy of ATLAS Gallery
ATLAS Gallery
49 Dorset Street, London W1U 7NF
+44 (0)20 722 441 92
info@atlasgallery.com
www.atlasgallery.com
Mon – Fri 10am – 6pm . Sat 11am – 5pm