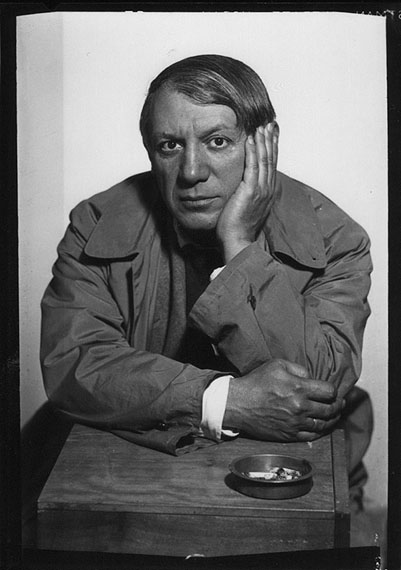 Man Ray, Pablo Picasso, 1933
© The Man Ray Trust/ADAGP, Paris and DACS, London
Eine seltene Sammlung von Kontaktabzügen des berühmten surrealistischen Photographen Man Ray ist ab heute in London zu sehen:  Aus einer privaten Sammlung werden 45 Photos gezeigt, darunter bisher selten gezeigte Portraits von Hemingway, Picasso, Braque und James Joyce.
Zeitgleich mit der Man Ray-Retrospektive in der National Portrait Gallery in London gewährt diese Ausstellung einen intimen Einblick in das Schaffen eines der bekanntesten Photokünstlers des 20. Jahrhunderts. Viele Drucke sind so genannte Full-Frame-Prints, zeigen also unberührte Versionen der Werke.
Die Sammlung ist ein Teil von insgesamt 150 Kontaktabzügen, die Man Ray noch zu Lebzeiten schuf.  Sie wurde von einem europäischen Sammler im Jahr 2002 von den bisherigen Eigentümern erworben. Die hatten das Set direkt von Man Ray in der Dunkelkammer gekauft.
Man Ray – Contacts
ATLAS Gallery
49 Dorset Street, London W1U 7NF
+44 (0)20 722 441 92
www.atlasgallery.com
Mon – Fri 10am – 6pm . Sat 11am – 5pm