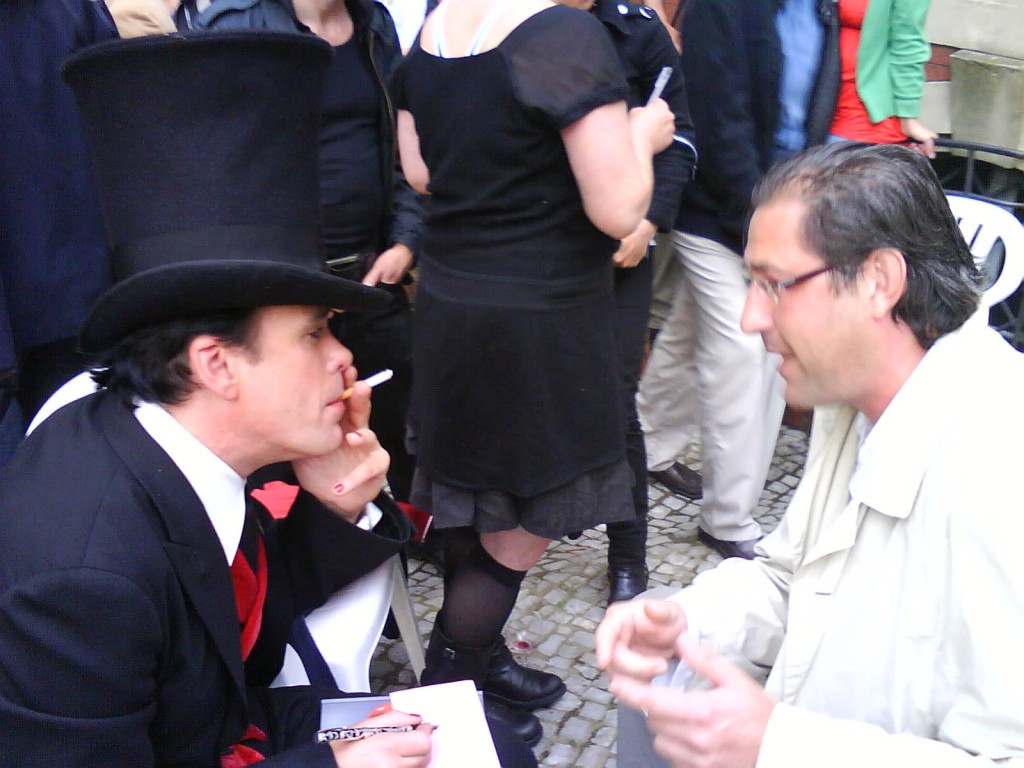 Sebastian Horsley im Gespräch mit Matthias Pierre Lubinsky vom DANDY-CLUB
Photo: © anna-C. Schroeder 2009
Der DANDY-CLUB erinnert an den vor einem Jahr in seiner Wohnung tot aufgefundenen Sebastian Horsley.
Für ihn waren Johnny Rotten und Quentin Crisp mehr Dandys als Beau Brummell. Horsley berief sich als Vorbilder auch auf Baudelaire, Rimbaud, Oscar Wilde und Lord Byron. Während eines längeren Gesprächs hatten wir im Sommer 2009 die Gelegenheit, Sebastian Horsley zu treffen und mit ihm über das Dandytum zu sprechen. Er war ein äußerst liebenswürdiger Gesprächspartner.
Sein Erbe brachte Horsley vor allem mit Nutten und Drogen durch. Er lebte in Soho/ London in einer Wohnung mit Totenschädeln. In seiner Autobiographie bezeichnete er sich selbst-ironisch als 'Dandy in der Unterwelt'. Hier erzählt er berührend von seinem Leben. Angefangen mit einer missglückten Abtreibung, über die Malträtierungen durch den Alkoholoker-Vater, bis zu seinen Versuchen, eine Prostituierte, in die er sich verliebt, zu bekehren…
Wir denken an Dich, Sebastian, im Dandy.Himmel.

The DANDY-CLUB remembers at Sebastian Horsley- to a year ago found dead in his apartment.
For him, Johnny Rotten and Quentin Crisp were more dandy than Beau Brummell. Horsley also citing as examples Baudelaire, Rimbaud, Oscar Wilde and Lord Byron. During a lengthy interview, we had to take the opportunity in summer 2009, we talked with Sebastian Horsley about dandyism. He was an very amiable interlocutor.
Horsley brought his legacy especially with hookers and drugs. He lived in Soho / London in an apartment with skulls. In his autobiography he described himself as an ironic 'Dandy in the Underworld'. Here he talks touchingly about his life. Beginning with a botched abortion, the hurts of his Alcoholic-Father, to his experiments, a prostitute, in which he falls in love to convert …
We think of you, Sebastian, now Dandy in the Sky.



Sebastian Horsley im Video: